28DL Full Member
28DL Full Member
Having travelled to Wales to go and have a look at somewhere completely different but failing due to health issues on my partners part...we ended up here. We had visited a couple of other pinned places en route, but they were either secured by dog patrols or couldn't be found without potentially upsetting the locals!
Clawdd Manor back in its day was a fine house.
The same however cannot be said for the state it is in now!
It can be found overlooking the River Usk, and was designed in the style of a French chateau. The deeds for the property and 19 acres of land date back to 22 May 1907, and show that it had been leased to Mrs Anne Evelyn Lyne. Thirty pounds a year ground rent was paid to a charity called "The Church Lands in the Parish of Christchurch". By the 1950's the house was owned by Cecil Lyne, who had become a Colonel during her service in the army and both World Wars. He wan a chicken farm on the land with 10 chicken houses and even won "Monmouthshire Best Lay Cup". It was owned by the same family until Cecil's death in 1979, when it was put to auction and sold. Unfortunately nothing has been done to Clawdd Farm since 1955, and it has been left to fall into disrepair.
The particulars for the sale advised:
In addition to its obvious attractions as a private residence the property could conceivably have potential for many other uses most particularly in the catering trade.
On three floors, the accommodation comprised:-

GROUND FLOOR: entrance hall, study, lounge, dining room, kitchen, butler's pantry, store room/boot room, pantry, cloakroom, rear hall with access to cellar, main and secondary staircases

FIRST FLOOR: six bedrooms, boxroom, landing, rear landing, bathroom and separate WC

TOP FLOOR: self contained flat with two bedrooms, bathroom, sitting room and kitchen.

Outside: 3 acres of mature gardens, 3 acres of rough paddocks and 13 acres of agricultural land, double garage, garden shed, fuel store, wood shed, WC and a range of stabling with four loose boxes, harness room and feed house.​
It was bought by Janet Hughes who managed to turn it into a very successful bed and breakfast business until it was bought by the Celtic Manor Resort in 1995. In the 1988 edition of The Healthy Holiday Guide it contained the following: "This beautiful Edwardian farmhouse, set on 19 acres of hillside in the peaceful Vale of Usk, is, self-confessedly, 'cluttered within and without': its exterior bristles with folly-like projections - including a round turret, numerous dormer windows and porches galore."
The stables were renovated and converted for use as self accommodation units...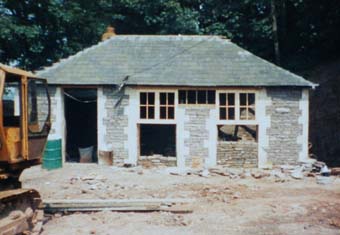 When in 1995 Clawdd Manor was sold again it was purchased, along with other properties and land along the Bulmore Road, by the Celtic Manor. Having left the building unattended and uncared for, vandal's and oiks did what they do best. Eventually the place was destroyed through arson. The house now lays in rack and ruin
The old converted stables and tack house are being taken over by nature. I'm going to leave out the pictures of the HUGE spiders we saw in the place, you can thank me later.
​
Outside the Manor House
​
You can see a lot of the decoration that had gone into the place, from carpet, tiles and accessories
And that was that. It may have not been the day I wanted, but at least it wasn't completely wasted, plus we had a lovely little drive around Wales in the process.