28DL Regular User
Regular User
RAF Predannack was opened in May 1941 as a satellite for RAF Portreath. Accommodation was dispersed over a wide area, with officers accommodated in the Mullion Cove and Polurrian Hotels.
The number of personnel reached peak strength of 3,600 by 1944.
The Luftwaffe attacked Predannack several times.
During World War II, Predannack's location made it an ideal landing ground for damaged British and American bombers. Its size and position also suited it well as a staging post for planes en route to the North African theatre..
As a result, the RAF agreed to extend the runways in 1943 for larger aircraft, including Vickers Wellington and Consolidated Liberator aircraft for anti-submarine warfare.
On June 1 1946 the airfield was reduced to Care & Maintenance parented by Exeter and it seemed certain that it would soon be returned to heathland. It did indeed lie abandoned for several years, but its very isolation was the reason for rekindled interest. Barnes Wallis had been conducting experiments with variable geometry models for Vickers and Thurleigh and by 1951 was ready for more extensive testing, including free flight. Predannack was selected and a launching track built across the airfield alongside 06/24 runway. Trials were due to start in September 1947 but constant delays were experienced with the Wild Goose test vehicles and launching gear and it was not until April 1952 that a flight was made. Control dificulties resulted in the model hitting a building and being wrecked, but tests continued and altogether 31 powered flights were made, at least one by an updated version, the Swallow, before Vickers stopped work on the project.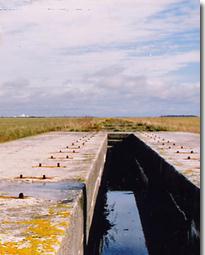 Predannack was abandoned in October 1954.
Four years later, with helicopter training expanding at Culdrose, a relief airfield was needed and Predannack proved ideal. it was taken over by the Fleet Air Arm on December 15 1958 for elementary training of helicopter pilots away from the main airfield at Culdrose. The 06/24 runway was cleared and resurfaced in 1971 to enable fixed-wing aircraft to land and several were flown in for the RN Fire Fighting School which was established on the airfield.
The airfield is still in use by Culdrose, a new administrative block and control tower having been built in recent years.