28DL Regular User
Regular User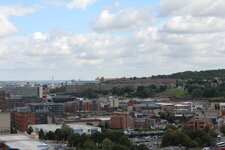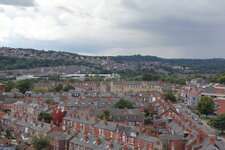 View attachment 9988
View attachment 9989
View attachment 9990
View attachment 9991
View attachment 9992
View attachment 9993
View attachment 9994
View attachment 9995
Visit with Snapple and Turk. our second attempt we made it into the Baccy warehouse at Stanley Dock... And what a site!! After slipping away from the busy market held in the ground floor of the mighty warehouse we found our ridiculous acess point. The rope I took with us came in very handy indeed and we were soon on the first floor. We headed up to the roof and took in Fantastic views over the mersey and Liverpool city. Down one story to the "Cigar Floor" and then down one at a time, exploring each story. The building is amazing, and full of original features... posters still on the wall from the early 1960's!
From the second floor we made our way across the iron bridge which crossed the market and into an older part of the warehouse complex. This building was fantastic with iron pillars and a vaulted roof. The presses for pressing the bails of baccy ware still in situ, which was a great find.
We decided to seperate and make our way out, as myself and Turk decided our ridiculous climb would only get harder on the way down. Snapple did the climb, Turk walked out right past the market security! And I slipped out of a smashed door right into the arms of a market trader! Luckly he looked more shocked that pissed off and I slipped into the bussle of the market!
It really was a fantastic place to explore, and the way we seperated, got out and then met up felt like something out of Where Eaglas Dare!