Site:
The Swiss Centre, 10 Wardour Street, W1 , London
Explorers:
Downfallen and Palace Fan
Height:
14 Floors / 49M
Status:
Under demolition
History:
Completed in 1968 and occupied by The Swiss Bank, Swiss Tourist Board and various Swiss Restaurants, shops and business's. The Swiss Theme was extended in 1984 with the renaming of New Coventry Street as 'Swiss Court' and the introduction of a glockenspeil and cantonal tree, displaying the regional flags of Switzerland.
Future:
The building no longer meets current market requirements for layout and facilities.The Cinema on the 3rd floor suffered from a poor layout and did not meet the expectations of modern cinema goers in this area.
Demolition will be followed by a new construction , lower at 11 floors/ 42M that will promote mixed use facilities (some retail, small offices, Hotel and casino ( proposed) )
It will also benefit from a new overall lighting scheme reflecting of its proximity to the vibrant Leicester Square.
***​
Possibly one of the more brazen explores myself and Palace have attempted...it doesnt really get any busier than this...
London..
Leicester Square in front of you , China Town behind you, Haymarket to your right and all the time...in the glare of the most CCTV'd region of the UK !
After recceing the possible entry points a few nights ago together ...
Palace commented
" right lets pick a quiet night to give it a go"
We stared at each other for a second before bursting out laughing...there are no quiet times here...its 24Hr....24hrs !
We waited patiently on the street on the night....we watched and waited..
Pimps, prostitutes...pissed up tourists...drug dealers...homeless.....angry homeless...gorgeous gals with long legs....swamp donkeys with short skirts ...police...undercover police...vigilant doorman...minicab drivers searching for the next rip off fare....Chinatown chefs on a smoko....
I could go on.....but we saw em all....and disturbingly they saw us too as we waited patiently for the right time.
Patience is a virtue....but its also a dead sure sign you are 'up' to something in this part of town.
Anxious we had been waiting a while looking for that elusive break in the mechanical and human traffic.....we nearly canned it at least a couple of times....will this street EVER quieten down...??
But in as quick a time as the streets seemed to fill up from no where.....the break came.
We didnt hesitate...not for a second...following Palace up the scaffold...the last sight I made of the street below were two Turkish Pals....one passed out on the pavement....the other trying to lift his pal ,swaggered a bit and stared up at me ( probably wondering what it was he had too much to drink )
No hesitation....straight into the cover of the scaffold hoarding and up as quickly as possible...we left him to look after his mate as we slipped into shadow.
A smile , a laugh...the patience had paid off and we were in...the rest was easy with plenty of shadow all around us on the roof and Mezzanine levels to observe.....rather than be observed.
***​
Looking South from the roof . Leicester Square and the Haymarket in the foreground.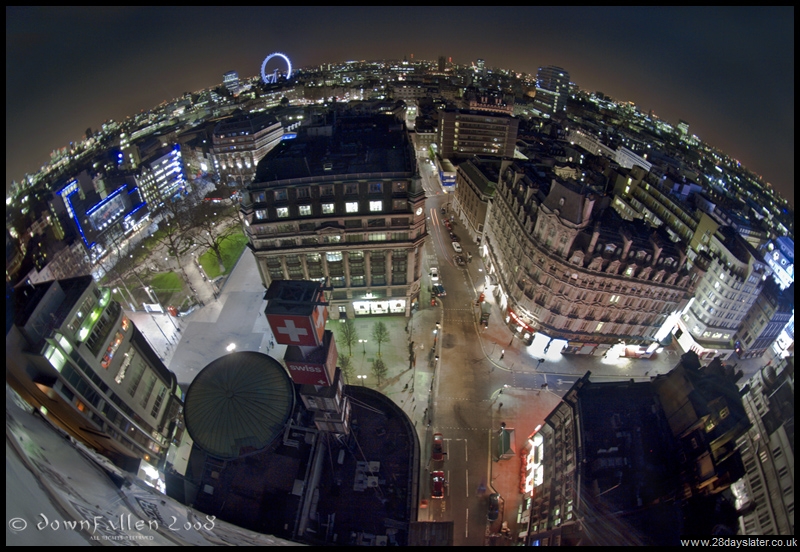 Looking North....Centre Point and the BT Tower rise high.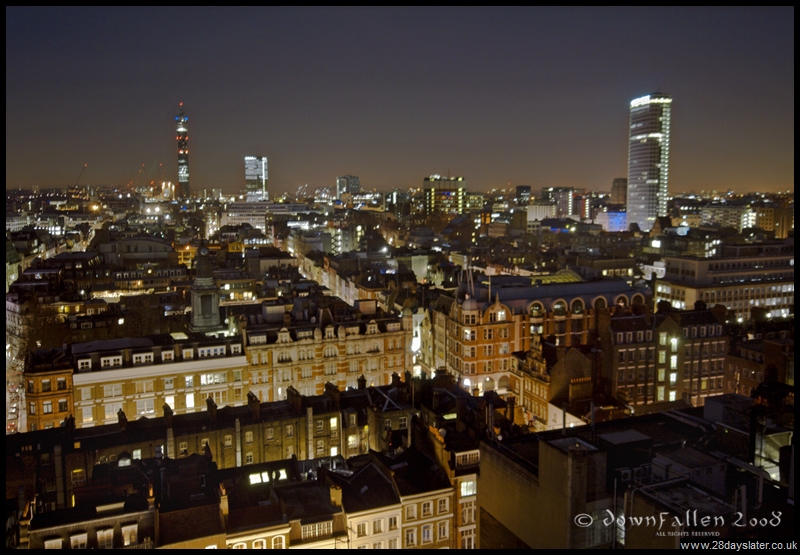 Looking East towards the City and the 'Wharf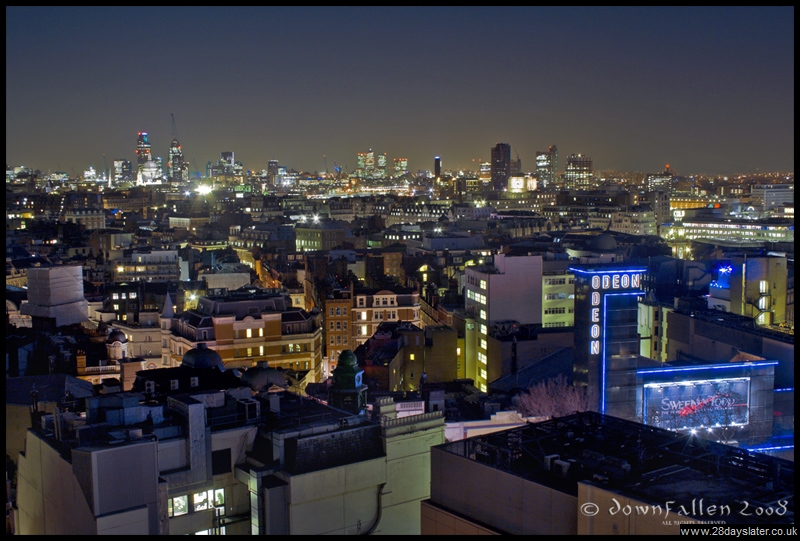 The Swiss Air ....'Tower'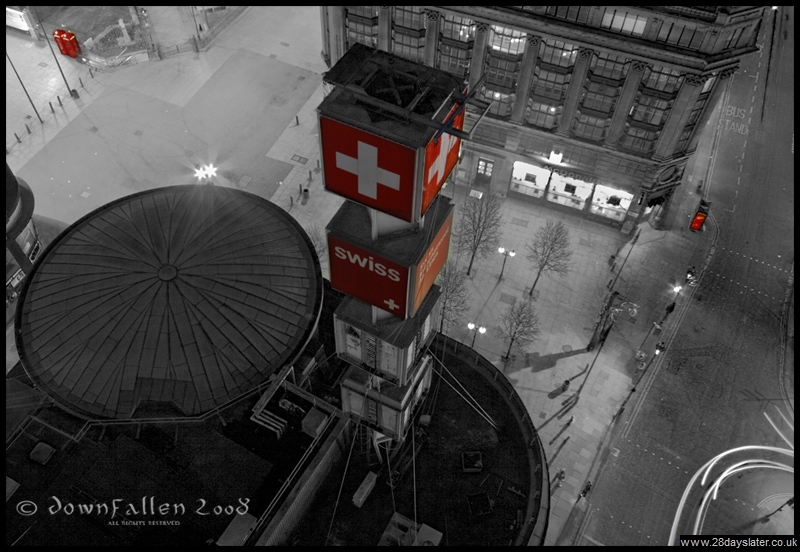 Under demolition....one floor at a time...starting with the top.Palace Fan in the distance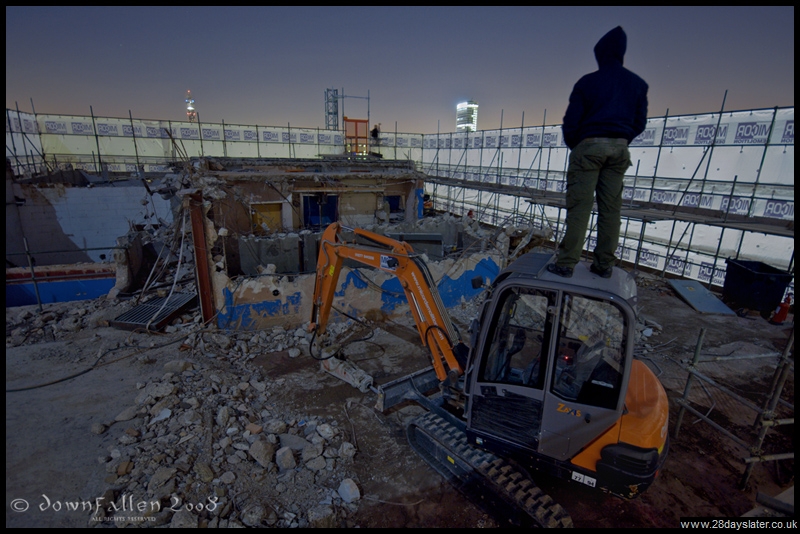 Moving down a few levels....Palace Fan climbed the 'Tower' to the top, but despite a great effort through some tight passages...couldnt get 'out' on top due to a blocked hatch.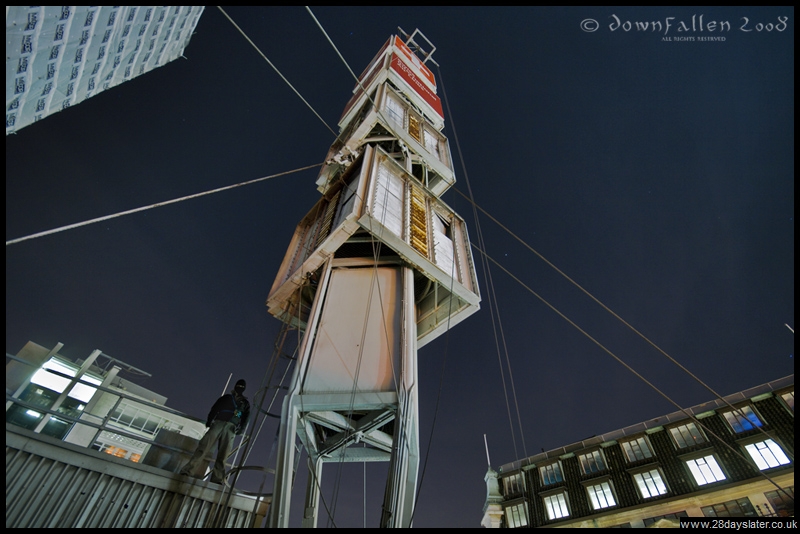 Looking out over Leicester Square ....
A cold, crisp, clear night and a cool explore....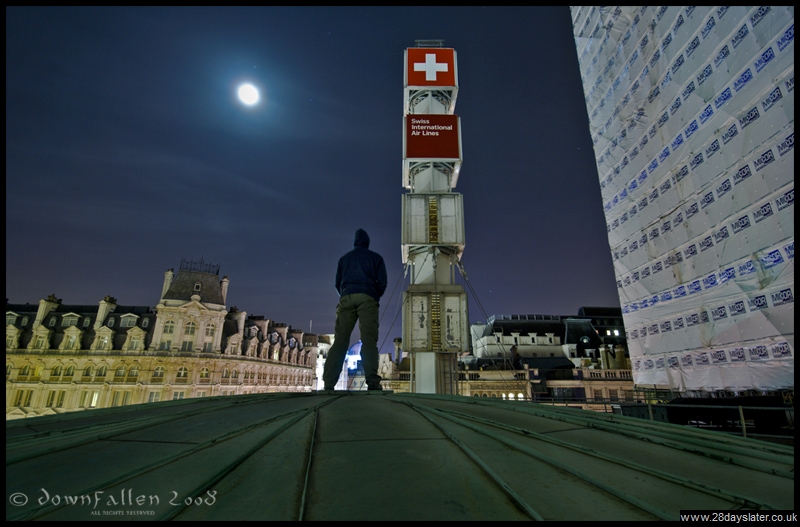 Last edited by a moderator: